Latest News
2019-10-14
Cpt James Moodie letter to Queen Ann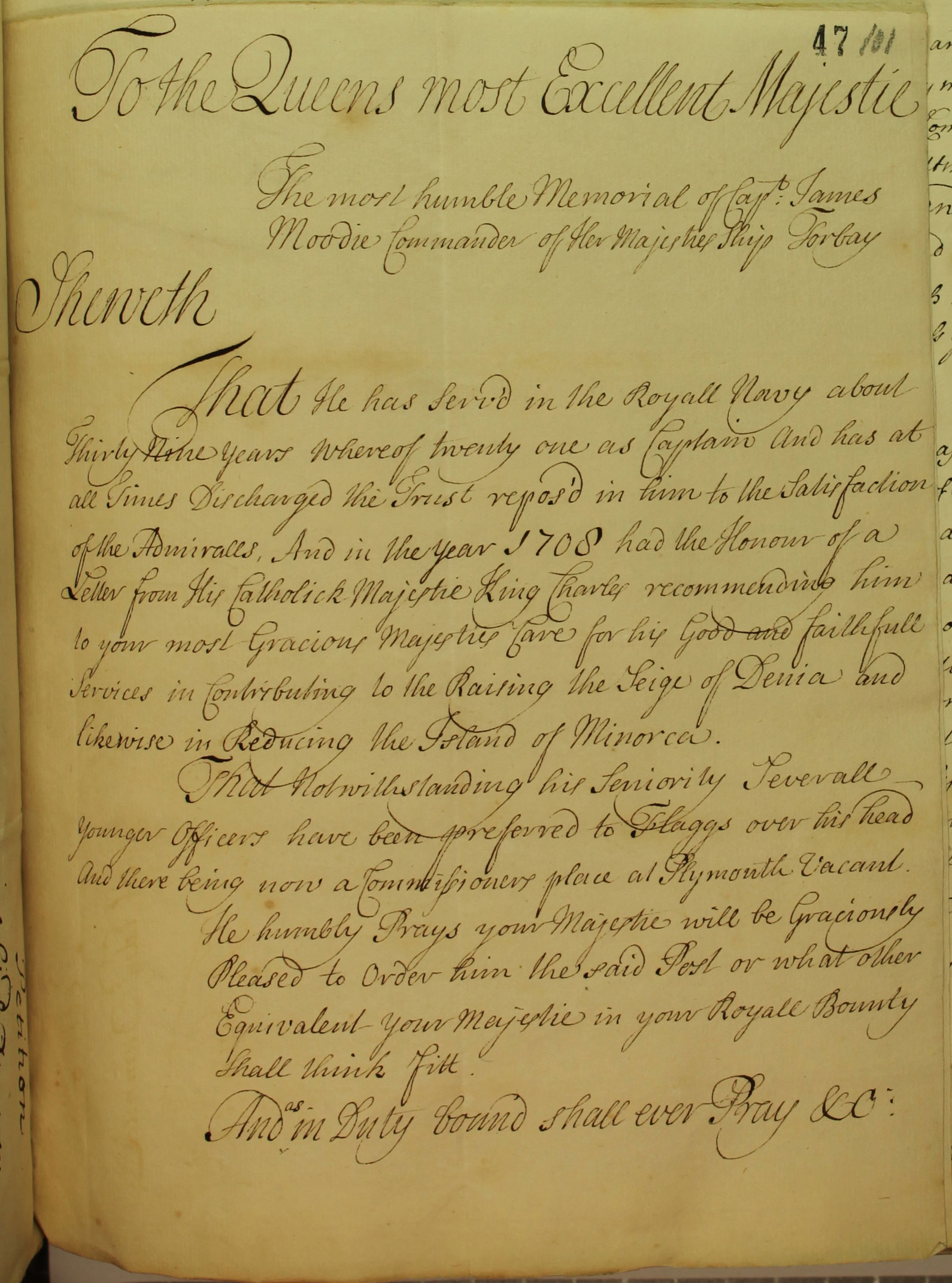 Transcript
To the Queens most Excellent Majestie
The most humble Memorial [statement of facts used in a petition] of Captain James Moodie Commander of Her Majestie's ship Torbay
SHEWETH
He has served in the Royall Navy about Thirty Nine years where of twenty one as Captain and has at all times Discharged the Trust reposed in him to the Satisfaction of the Admiralls. And in the Year 1708 had the honour of a letter from His Catholik Majestie King Charles recommending him to your Gracious Majestie Care for his Good and faithfull services in contributing to the raising of the Siege of Denia and likewise in Reducing the island of Minorca.
That notwithstanding his seniority, Severall younger officers have been preferred to flags over his head and there now being a Commissioners place at Plymouth vacant.
He humbly prays Your Majestie will be Graciously pleased to Order him the Said post or whatever other equivalent your Majestie in your Royall Bounty shall think fitt.
And as in Duty bound shall ever Pray & etc.
From <https://www.nationalarchives.gov.uk/education/resources/queen-anne/source-one-petition/>
*King Charles was the ruler of a group countries in Europe called the Holy Roman Empire and he wanted the Spanish throne and went to war with France over it.
From <https://www.nationalarchives.gov.uk/education/resources/queen-anne/source-one-petition/>